Innovation is the foundation of Senyuan Group. Since its inception, Senyuan takes it as the long-term development strategy to "recruit high quality talents with system innovation, develop high-tech products, and take the lead in the market". The company holds Technological Innovation Commendation Meeting every year and will award the key innovation contributor 100,000 Yuan, which greatly inspires the research staff and they keep making new technologies and new products.

In 1992, the company was just established and its product positioning was GN series disconnector. With 5 years efforts, the company's products became NO. 1 in domestic market; In 1997, the company successfully developed the internationally advanced GZS1 mid-mounted high voltage switchgear product, which ended the monopoly of foreign products in the high end market in China. Now, Senyuan has established unique intelligent metal plate flexible production system in the world through integrated innovation which has become one of the most advanced digital plants together with the 16 intelligent assembly lines.

In the field of vehicle manufacturing, Senyuan has successively developed 4 categories of vehicles and series of new products since the acquisition of Benma Co., Ltd. in 2002. In 2014, "Concrete Pump Truck Engineering Technology R&D Center of Henan Province" was set up in Senyuan Heavy Industry. In the same year, the electric passenger car product was successfully launched and it passed the crash test conducted by the National Quality Supervision and Inspection Center.

In the field of new energy, Senyuan released information about SYF-400 intelligent off-grid wind and solar power supply system in May 2006, which was three months earlier than similar information released in Europe and America, which has drew the attention of Chinese Academy of Sciences. In 2007, the company was approved to set up Henan Provincial Wind Power Generation Engineering Research Center. In 2014, the company launched a series of new energy power generation equipment products such as SVG, inverter, transformer, etc.
In 2015, to further recruit senior technical talents, enhance the technological research in nuclear power, microgrid, and new energy, Senyuan Group set up its global research center in Beijing Tsinghua Technology Park, which consists of "Intelligent Power Grid and Nuclear Power Equipment Research Institute" and "Electric Car Research Institute". The Group also jointly conducted research on special subjects with related research organizations and Postdoctoral Workstation in Tsinghua University.
At present, Senyuan has a strong research team consisting of 6 experts who receive special subsidies from the State Council, more than 60 experts with Doctor's Degree and scholars returned from foreign countries. Senyuan also has established cooperation relationships with famous universities and international enterprises, and explored a new innovative path integrating original innovation, integrated innovation and borrowed technologies. At present, Senyuan has gained the authorization of more than 1000 patents, including more than 100 invention patents, and has become one of the makers of the industry standards and has won a wide market.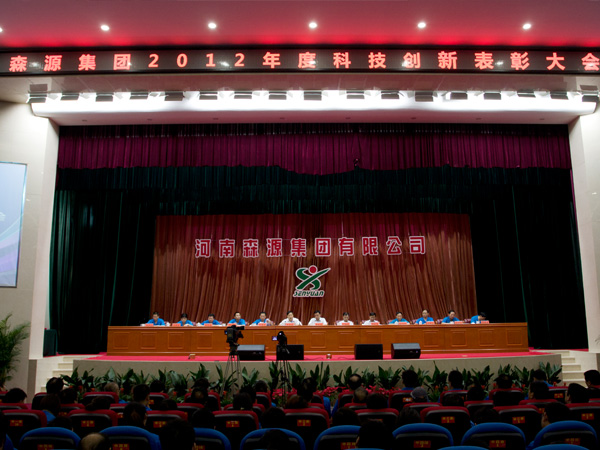 Senyuan Group Annual Technology Innovation Commendation Meeting