Henan Senyuan Group Co., Ltd. ( Senyuan Group for short) was established in 1992. So far, the Group has more than 8,600 employees, total assets of 16 billion Yuan, and the sales income in 2013 is over 13.2 billion Yuan. The Group has successively won various honors such as "China's Top 500 Private Enterprises", "China's Top 100 Electronic Information Enterprises", "Governor's Quality Award of Henan Province", "National Key Hi-tech Enterprise", etc.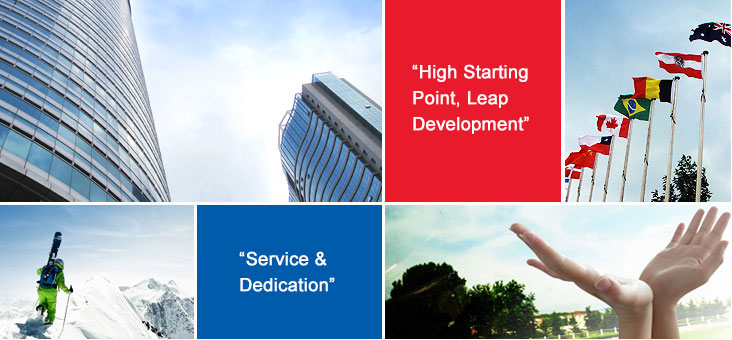 Senyuan Group is a diversified modern international hi-tech enterprise group. The Group integrates R&D, manufacturing, investment and trading businesses in four major industries including electrical equipment, vehicle manufacturing, new energy and investment and trading. Senyuan Group is one of the first batch private enterprises that participated in China's reformation of mixed ownership and it is the third largest shareholder of CITIC Guoan Group.
Senyuan Group is headquartered respectively in Tsinghua Technology Park, Haidian District, in Beijing. The Group consists of 19 subsidiaries including Henan Senyuan Electric Co., Ltd. (SZ. 002358)、Henan Senyuan Heavy Industry Co., Ltd., Henan Benma Co., Ltd., Zhengzhou Senyuan New Energy Technology Co., Ltd., Senyuan International Development Co., Ltd. ("Senyuan International" for short).The Group has set up modern industrial parks in Zhengzhou National Economic and Technological Development Zone and Xuchang Zhongyuan Electric Valley covering an area of 1.33 square kilometers.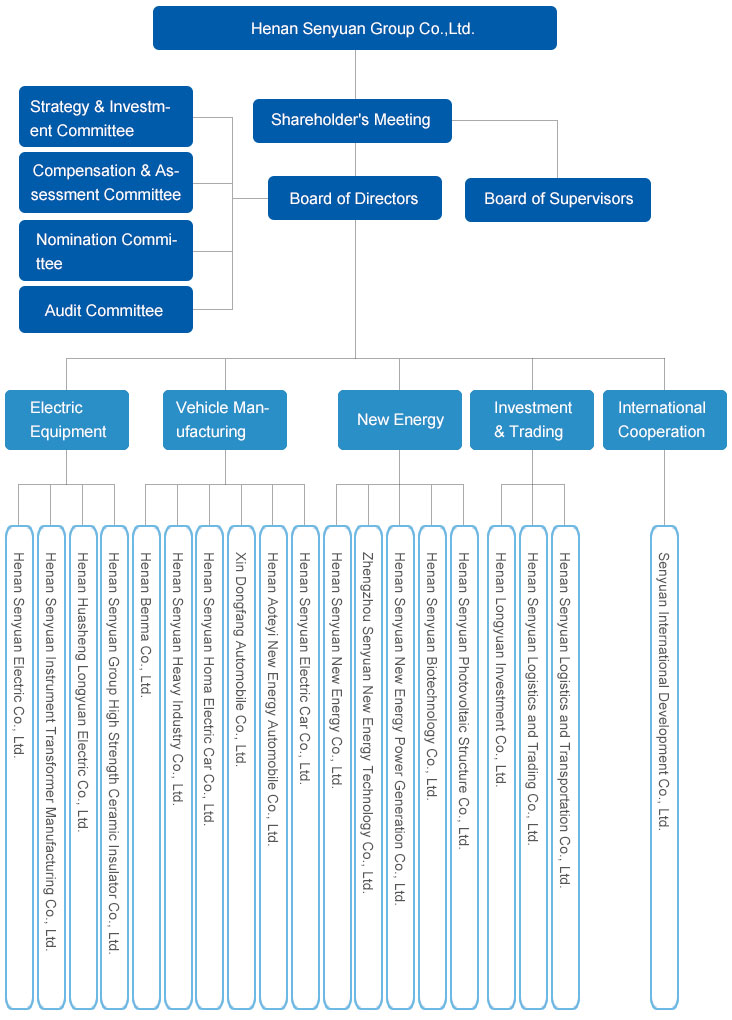 Adhering to the development strategy of "recruiting high quality talents with system innovation, developing high-tech products with high quality talents, and leading the market with high-tech products ", Senyuan Group continuously conducts innovation in terms of technology, management and the system. The Group has advanced modern production lines in the world, a national level postdoctoral research workstation, two provincial level enterprise technology centers and four provincial engineering technology research centers. In addition, the Group has 6 experts who receive special allowances from the State Council including 3 experts in the national level electric equipment industry. The Group also makes deep cooperation with famous universities like Tsinghua University, Shanghai Jiao Tong University, Dalian University of Technology, etc. and has recruited high quality talents from these universities for successive years.
Henan Senyuan Electric Co., Ltd.
(Trading name: sen yuan dian qi, Code: 002358) was established in 1992. The company mainly produces intelligent high, medium and low voltage electricity generation, transmission and distribution facilities. The company is a vp member of Power Electronics Branch of China Electrical Equipment Industrial Association, and has been awarded "National Key Hi-tech Enterprise" and "Top 100 Enterprises of China's Power Electronics Industry". The company has established a postdoctoral research workstation, a provincial level enterprise technology center and three provincial level engineering technology research centers respectively engaged in the research of medium voltage PTD facility, wind power generation, and electricity quality equipment. Since 1998, the company has successively passed the certification of ISO9001, ISO14001, and OHSAS18001 systems; since 2000, the company has undertaken multiple national level key projects including key electric equipment project, new type power electronic device industrialization project, strategic emerging industry project, energy equipment technical innovation project, intelligent equipment manufacturing project, Torch Plan project, as well as Henan provincial key technological project, etc. At present, the company has gained authorization of more than 460 patents.
Henan Senyuan Heavy Industry Co., Ltd.
is a special vehicle manufacturing enterprise registered at National Development and Reform Commission. With the special vehicle R&D Center, the company is qualified for the manufacturing of 6 kinds of special vehicles including special cargo truck, special work vehicle, passenger compartment vehicle, common truck trailer, and other trailers, etc. At present, the company has entered a new development phase with predominant products of truck crane and concrete vehicles. To guarantee product quality and accelerate the strategic transition, the company adheres to the concept of "high starting point, leap development and establishing a modern enterprise", and has brought in a series of advanced CNC machining equipment, special coating and assembly product lines valued more than 10 million Yuan in recent two years, including 1000T-12M CNC bending machine, Taiwan large CNC gantry machining center, large steel plate flattening equipment, CNC edge planer, CNC precision plasma cutting machine, CNC 3D bending machine, longitudinal joint/circular seam automatic welding machine, butt welder, etc., and the company has become one of the special vehicle manufacturing enterprises with the most advanced technological equipment and manufacturing capability in China.
Henan Benma Co., Ltd.
is an automobile manufacturing enterprise affiliated to Henan Senyuan Group. It is the first national designated agricultural truck manufacturing enterprise, member of China Agricultural Machinery Association, member of China Fire Protection Association, vice-president member of Henan Automobile Industry Association, and member of China Association Of Urban Environmental Sanitation. The company built a new plant in 2008 and moved to the new plant in late 2010. The new plant covers a land area of 600 mu (i.e. 400,000 m2) and has floor area of 300,000m2. The company has total assets of 2.74 billion Yuan, a team of more than 2,800 employees and more than 800 technicians with intermediate or senior technical titles. The company also has one provincial level enterprise technology center, one provincial concrete pump technology research center, one Xuchang municipal low-speed automobile engineering and technological research center and more than 30 professional product lines, and has passed the certification of ISO9001, ISO14001 and OHSAS18001 system. The annual output of the company is 300,000 vehicles including special vehicle, electric car, low-speed vehicle and medium/light duty truck.
Senyuan International Development Co., Ltd. (Senyuan International for short) is a wholly-owned subsidiary of Senyuan Group. Established in 2014, it is headquartered in Beijing Tsinghua Technology Park. As the overall platform for Senyuan Group to improve its influence in the world and explore the global market, "Senyuan International" is mainly engaged in the export of Senyuan branded engineering vehicles, electric equipment, and the development and construction of international electricity transmission and transformation project, import of international advanced technologies and equipment and overseas investment and international cooperation, etc.
"Senyuan International" undertakes the great mission for the Group's internationalization. The Group has dispatched high quality staff and invested much in the company for its exploration in international market. "Senyuan International" will follow the integrated strategy "optimal planning, steady progress, major breakthrough, and overall layout" and make great efforts to expand the international business in the whole world. The company aims to achieve the strategic aim of "internationalized talents, globalized market, products with international competitiveness, a brand with international influence, and internationalized management" in 3 to 5 years.